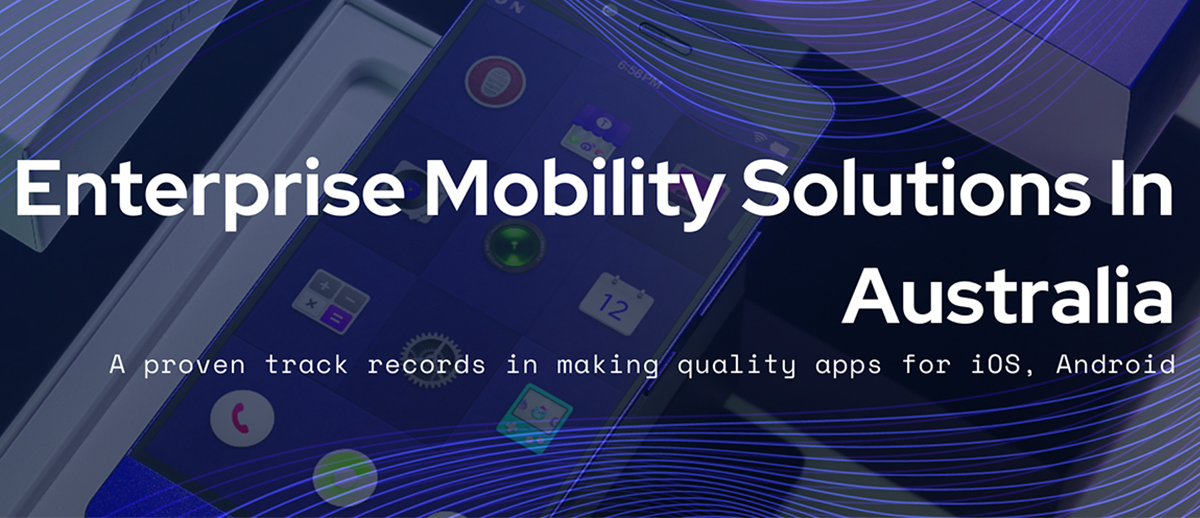 Mobile App Development,Technology
We work on the futuristic technology of mobile. We are a loyal mobile app development company in Sydney with proven track records in making quality apps for iOS, Android. Specially customized to business objectives.
Enterprise Mobility Solutions In Australia
Mobility is continuing to be a mainstream topic of the IT strategy world. It has empowered many companies by streamlining their workflow and delivering the best possible outcomes with fewer resources. Enterprise Mobility in Australia has revolutionized the way the IT sector performs today.
With institutions like banks, universities, financial services, healthcare and media, crunching numbers with the IT for improved performances, and better productivity, mobility solutions prove to be the best bet.
Currently, around 73% of the global workforce comprises of mobile workers with 88% of them requiring access to work documents outside the office. Affirming with the statistics, CIOs perceive mobility as a significant revenue generator and a primary channel for customer interaction. With these trends reflected on the workforce in Australia as well and companies raking up cost savings of around 63%, it is quite imperative that enterprise mobility solutions play a critical role in increasing the productivity of organizations.
Our Approach to Enterprise Mobile App solution
Mobility demands a robust solution based on a clear strategy and an in-depth knowledge regarding the ropes of the business. Our solutions integrate new technologies with existing systems, granting the following:
Real-time access to data
Complement BYOD (Bring your own device) by mitigating data security risks
Break free from the constraints of legacy systems
Identify and use the right technology to complement business requirements
Why empower your organization with an Enterprise Mobile app in Australia?
Enjoy a cost saving of 63%
Enhance collaboration
Quick decision making
Better employee productivity
Improved client interaction
Scalable solutions
Reduced sales cycle time
Reduced inventory costs
Smooth workflow and ease of operations
Improved brand perception and increased sales revenue
Mobile Applications cater to Small Businesses also
Mobile applications gave users and enterprises the advantage of having data on their fingertips not to mention instant engagement and better interaction. Mobile applications have become a software revolution that gave businesses a whole new platform that enables them to reach out directly to their clients. By owning an app, your business would be developing brand loyalty, building relationships, improving visibility and rich data capture at real-time.
The good news is that these striking services are no longer limited to large organizations or enterprises. Supreme Supports brings forth a whole range of services catering to applications for SMBs. Leverage this opportunity to get your business to go mainstream, through social networking, better visibility, and improved accessibility. Engage with clients on the fly and reinforce your brand for better revenues.
Why is Mobile app development Sydney crucial to SMBs? There are over a million apps on apps stores and a wide majority of people use smartphones to avail them. Not having an interactive virtual representation of your business could cost you your clients. Enjoy the following benefits through applications:
Customized branding
Remain consistent with your business branding and enjoy customized apps to suit specific business requirements.
Problem solved in time
Immediate access to business data helps on-field executives to identify snags and solve them quickly without the hassle of costly delays.
Real-time data capture
Instant capture, store and upload rich data like text, numbers, photos, signatures, GPS locations for quick integration with your business system.
Why choose Mobile App Development from Sydney?
The designing of specialized apps for specific requirements can sometimes be intensive and demanding. As a leading custom mobile app development company, we have numerous customized apps to credit. Our expert developers have extensive experience in this field and have mastered this domain for all the major smartphone platforms. Our team understands the app development trends around the globe and makes sure to incorporate the latest techniques and finest tools to deliver outstanding results. The experienced team of developers and designers will ensure that they spend enough time understanding the requirements of their clients and how they envision the final outcome to be. The team is also available to listen to your feedback, answer questions, and help you work through any challenges that arise.
Services we offer
Rich Internet apps
Tools for Device Management
Support for multiple mobile platforms
Support for Mixed Platforms
Multi-Language Support
Smooth integration of the app that addresses the full integration lifecycle
Supreme Supports is a Mobile Application and Web Development company, with rich expertise and proficiency in the field. With over 10 Years of experience, we have developed numerous Mobile Applications and Web Applications that cater to a number of business verticals. Our teams of developers have vast experience and a thorough knowledge of all the various platforms.