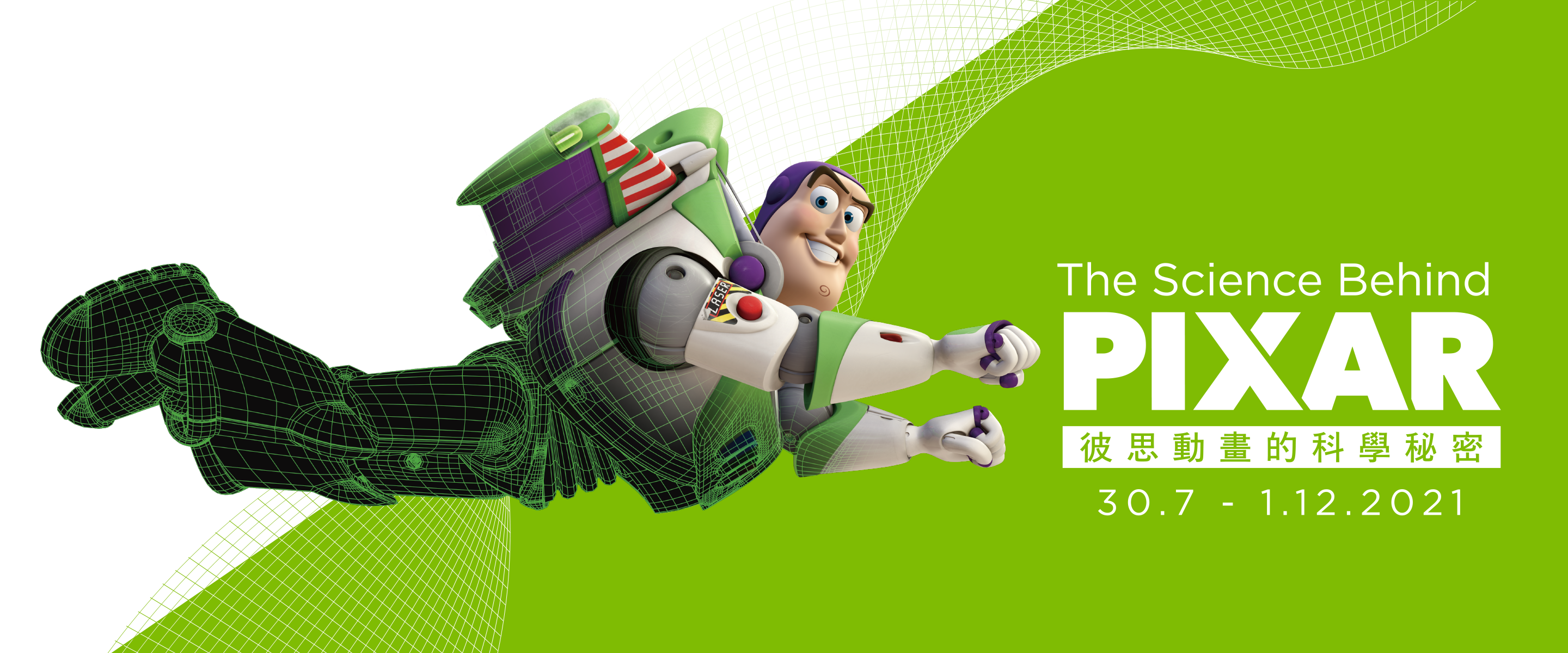 3d rendering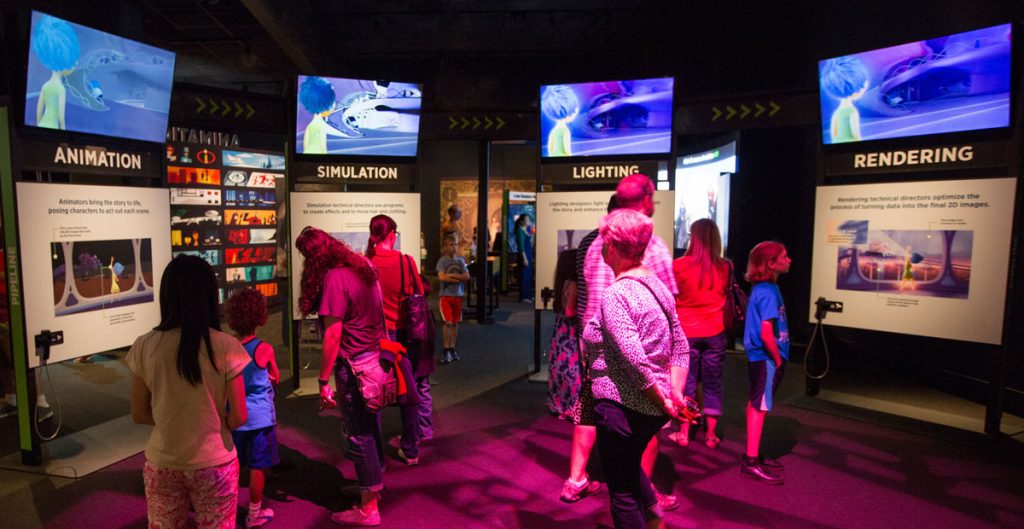 The point of "The Science Behind Pixar," the big new temporary exhibition at the Museum of Science and Industry, isn't necessarily to wow visitors with how many memorable films the animation studio has made. But you'd be hard pressed to spend time walking these stations of the digital animation cross and not come away more than a little gob smacked.
Pixar Animation Studios — creator of "Toy Story," "WALL-E," "Finding Nemo" and many other classics — doesn't really need any more advertising, though. And this show does a more than credible job at using Woody, Dory and the "Monsters Inc." furries not as brand ambassadors but as friendly faces to pull people in to the story of how the studio's ingenious, often great films are created.
And more to the point of this museum — and of the Boston Museum of Science, where the show originated in 2015 — it tells people how science, technology, engineering and math are employed along the path to "Up" or "The Incredibles."
"I don't even think we're 'sneaking' science in here because it is so much part of the process," says Anne Rashford, the museum's director of special exhibits.
There are algorithms aplenty, geometrical extrusions and something called the bidirectional reflectance distribution function, which is all about understanding the play of light on a surface.
That's not to say the exhibition, which opened Thursday, makes it hard on younger folks. You can also simply pose for a photo with a big WALL-E or Buzz Lightyear model.
And there are buttons, levers, and knobs galore, deployed to make things happen to Pixar characters or scenes. Reshape the plant life in a pastoral scene! Manipulate the facial features of Jessie, from "Toy Story"! Change the level of detail at which the camera sees Lightning McQueen!
Moreover, in these 10,000 square feet spanning both of MSI's main temporary exhibition halls, there are two or three copies of each station, which ought to reduce the wait time for visitors to lay their hands on the controls.
"Pixar" is a timed-entry ticket, which means MSI is anticipating crowds. This certainly seems a popular show. At least two versions are touring the world, according to the exhibition's website, and the one in North America is now booked through 2023.
Pixar was a partner in the exhibit's creation, and you can see its analytical mind at play in the layout. The stations are based on what it identifies as the key steps in the studio's filmmaking process: Modeling, Rigging, Surfaces, Sets & Cameras, Animation, Simulation, Lighting and Rendering.
But while there's right-brain logic to the organization, the creative side shows up in the variation among stations. In one spot, you move a desk lamp across an arc then photograph it at multiple stops to demonstrate the basics of animation. You move or change cameras to show different viewpoints on a set from "A Bug's Life."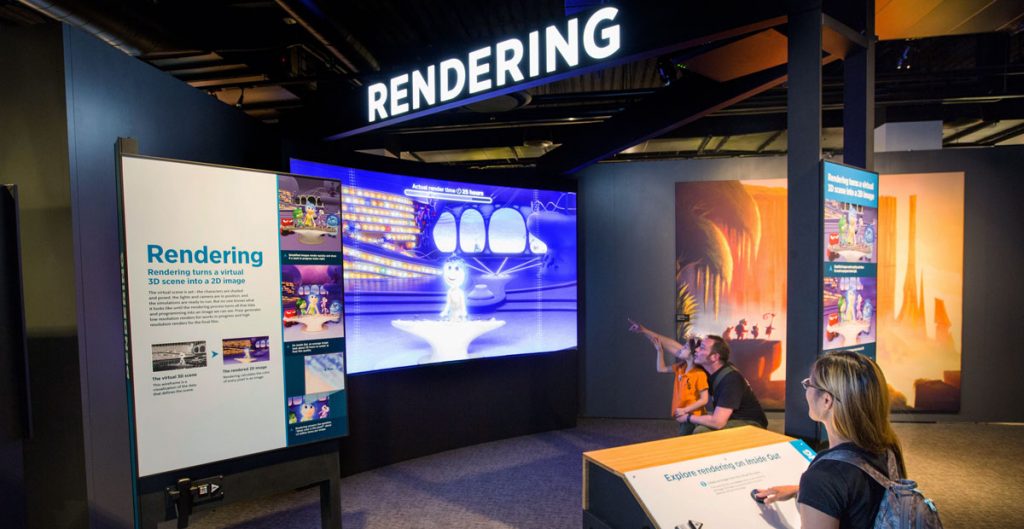 Visitors can go hard STEM by digging beyond the introductory screens in the interactive displays; this should work for middle- and high-schoolers who really want to understand how trigonometry is used for character motion, say.
But even the first-level, soft STEM treatment — for younger ones and for post-math adults — is richly informative. How can a cartoon, essentially, simulate a body of water? How do you make a pasture look realistic? How is mathematical subdivision used to smooth out the rigid, geometrical facets that form the basis of surfaces, such as hands?
One of the overriding answers, clearly, is hard work, not being satisfied until the thing looks right. Just to crack a smile on camera, the face of Sully, the big blue fella in "Monsters, Inc.," uses over 500 "deformers," essentially built-in programs that play across parts of the character's face. Lightning McQueen in "Cars" had 14 versions of red paint. One frame of Pixar animation can take 29 hours to "render," and its movies run at a minimum of 24 frames per second.
And what is "rendering?" It's a term you've probably heard when talking about the creation of digital imagery, and you may have learned that it takes massive amounts of computing power to execute. "The Science Behind Pixar" finally got the meaning of rendering into the mainstream news as more than an abstract notion. It's the process of turning the virtual 3D image into 2D for playback on a screen. "Rendering answers, the question, 'What color is this pixel?', about 1.5 million times per image," says the wall text, which would explain the massive server farm Pixar maintains.
Museum shows tied to big pop-culture phenomenon can be hagiographic and, at worst, feel like a funnel leading visitor straight to the gift shop. There's a gift shop here, too, of course, but it's an anteroom. The exhibition has a point to make about the importance of understanding shapes and numbers and dimensions — and, especially, of diligence in applying that understanding — and it makes it well.
My English major's quibble with "The Science Behind Pixar" is that it gives short shrift to the first, and arguably most important, step in the Pixar process, which it labels "Story & Art." But explaining how good stories and powerful images arise from the human brain is, I suppose, another exhibition for a different museum.
Unfortunately for us here in the UK we won't be able to go and visit, but if you are in Chicago, then make sure to check it out, more information can be found here: http://sciencebehindpixar.org/
Need to
DISCUSS?
Give us a Call
(02) 7911 3197
Enquire Us
Get A Quote
Email Us
info@supremesupports.com.au